Blue Residences - LOCATION
Blue Residence is 40 storeys high and the building bequeaths its residences with a spectacular view of the skyline of Quezon City, Ortigas City and Antipolo City. This single tower building carries variety of 1,591 studio units, bedroom and deluxe bedroom units.

Living in Blue Residences allows its residences to enjoy the vibrant lifestyle of the popular Quezon city. The city gives a vibrant social life to its residents. Quezon elevates the quality of its residents' life to new heights. As a resident of Quezon, one has an opportunity to celebrate all of life's milestone in an exciting manner. It gives tgevresidents a chance to start life afresh in homes that inspires them. Quezon is a reflection of a superb dwelling. A lifestyle that is characterized by convenience and luxury. The city's exceptional features are inviting and makes its residents live a relaxed lifestyle.

Quezon provides premium living to its resints in a superb way. They get to enjoy the convenience of living minutes away from the best in the city. Shopping malls and shopping centres are just minutes away from the residential areas. Furthermore, these shopping malls have first-class goods and residents can get all their basic needs from here. The bargain centres offer goods and services at a cheaper and at affordable prices. The residents of this fast-paced city have nothing to complain about when it comes to shopping. Lifestyle malls are spread all over the city yo.make their lives easier and much more pleasant.

In addition, Quezon residences enjoy the best transport services in the country. The taxis are easily accessible and are the most comfortable means of transportation. Finding one is pretty easy as one just has to stand on the walkway and flag down a passing cab. Furthermore, they have their own parking areas which are not far from the central business district. As for the jeeps, they are the cheapest means of transportation and offer commuter services. Apart from that, the buses provide both commuter and intercity services. The train is always ready to provide intercity transport services.

Notably, the best schools in the country are found in Quezon. This city lets the students live large and enjoy the exciting school life. Quezon touches the lives of its residents every single day of their lives. Parenrs do not have to worry about their kids attending schools that are far from home as schools are few minutes walk from the residential areas.

In addition, medical centres are easily accessible from the residential areas. Quezon gives its residents a privileged lifestyle to get the best services within their reach. Life has never been this easier. The hospitals and clinics are a short walk from the residential homes. Furthermore, the central business district is not far from homes thus accessing the best medical services is quite easy.

Celebrate your life's next phase in the warmth of Quezon city. A city that gives everyone the chance to converge with friends and family at the best places ever. Blue Residences allow its residents to enjoy this premium lifestyle.
Ateneo De Manila (2 min)
St. Bridget (6 min)
Kostka School (4 min)
Philippine Heart Center (11 min)
East Avenue Medical Center (12 min)
The Medical City (13 min)
Our Lady of the Miraculous Medal (7 min)
Good Shepherd Convent (6 min)
Our Lady of Pentecost Church (4 min)
Riverbanks Mall (4min)
SM City Marikina (13 min)
Gateway Mall (12 min)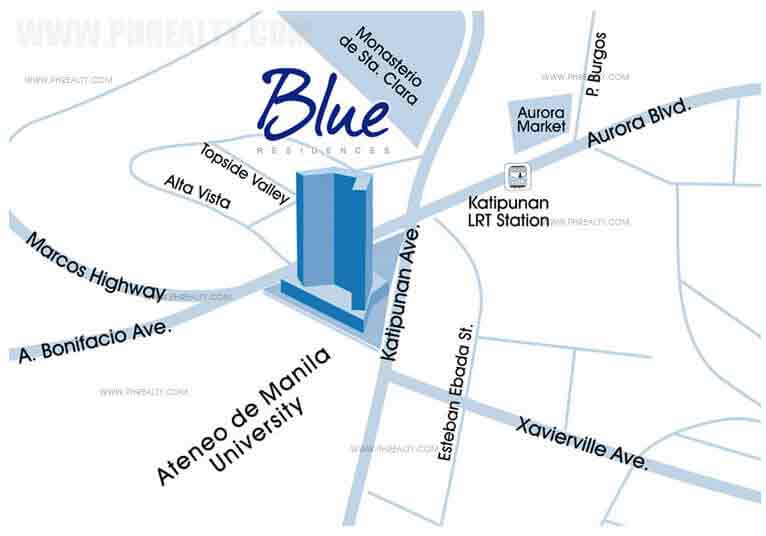 Since the location of this prominent tower is at Katipunan Avenue and Aurora Boulevard, Quezon City and right beside Ateneo De Manila University in front of the Ateneo Blue Eagle's Gym, the tower could be easily located from far away as the high rise tower sticks out of other buildings in the vicinity. Miriam College, University of the Philippines, and Philippine School of Business Administration are also located near-by. Easy access to LRT Katipunan Station is a prominent feature of this vicinity. A lot of casual and fine dining and inner streets restaurants as in Wok Dis Way, Flaming Wings and Mushroom Burger can make the youngsters thankful. Several service centers and retail shops, churches and shopping malls for the convenience of every individual.